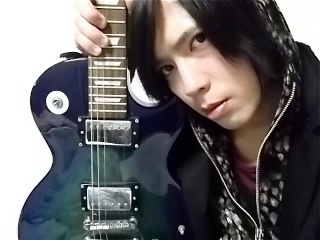 He has loved Japanese rock music since his High School days. He started to sing and teach himself to play the guitar. Shortly afterwards, he began composing his own songs and writing lyrics. In 2oo6 he formed his first band. They played in various halls and on the streets around Kanagawa.
In 2oo9 they released their first single under an indie label.
In 2o1o they relocated their musical activities to Tokyo.
There they played in more and more halls and bars as well as at indoor and outdoor festivals. The band became increasingly known. Already in the same year, they released their first mini album. Sponsored by his band, they organized three big events in Tokyo. At the end of 2o1o they announced their disbandment due to personal reasons.
He loves music and has gained longtime band experiences, so Qum decided to focus on his solo career.
We're curiously looking forward to hearing more from him...
Translation by me
Source: Facebook -> https://www.facebook.com/pages/QUM/272225786151028
.-+*+-.~☆~.-+*+-.~☆~.-+*+-.~☆~.-+*+-.~☆~.-+*+-.~☆~.-+*+-.~☆~.-+*+-.~☆~.-+*+-.~☆~.-+*+-.~☆~.-+*+-.~☆~.-+*+-.~☆~.-+*+-.
J-Rock: I can exist without it, but I can`t live without it.