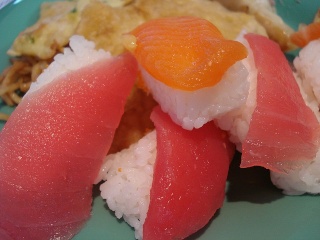 Sushi is very popular all over the world. Meanwhile Sushi isn`t only offered in exclusive restaurants, but also in cafes, cafeterias and supermarkets. This makes the Japanese restaurant owners worry. Because of the fast development, there`s a lack of hygienics when handling with Sushi. The Japanese said that it was prepared in the same place as meat and there was insufficient cleaning.
To save the image of Sushi, the Japanese have originated a program: They want foreign Sushi bosses and employees to learn how to handle Sushi hygienically correctly. The first seminar (in English) is to take place in Singapore this month. To receive a certificate, a written test has to be passed. Further workshops are to take place in London and Los Angeles in February.
Sushi boss Hiroyuki Kanda has opened a "Sushi Academy" in London. There he wants to teach the high art of preparing Sushi. He wants to declare war on the "mock Japanese cuisine".
Also the French and Italian want to retain a good image of Japanese food. There aren`t quality controls at the moment.
Translated summary by me
.-+*+-.~☆~.-+*+-.~☆~.-+*+-.~☆~.-+*+-.~☆~.-+*+-.~☆~.-+*+-.~☆~.-+*+-.~☆~.-+*+-.~☆~.-+*+-.~☆~.-+*+-.~☆~.-+*+-.~☆~.-+*+-.
J-Rock: I can exist without it, but I can`t live without it.